Women's entrepreneurship in Benin: discovering Mabel Adékambi, promoter of King of Soto liqueurs
After (2) two years, she sees her project come true through the opening of her Fram Conseils Agency. The same year, noting that sodabi was little promoted in Benin, she had the idea of creating a brand that would promote this local product. The idea of developing this concept did not take long to mature in his head. It launches into the production of this liqueur and gradually integrates new flavors, a new design, etc.
The brand's development project naturally follows its evolution and grows until it is voted best business project in several competitions. Involved in the development of Benin and that of women, she enrolled in 2016 for the political training of women leaders in Benin, organized by RECAFEM over a period of 3 years.
In 2014, she became co-founder of the Network of Artisan Women of Benin whose objective is to highlight women's works through training sessions and an annual fair. In 2017, she was appointed General Treasurer of the association FENEP (Women Engaged for Joint Nominations and Elections) whose objective is to bring men and women in rural areas to become aware of their role in socio-economic development. economy of the country. One of the first activities of the association was to train young people on the history of Benin and the interactions of the citizen with the institutions.
A SUCCESSFUL EXAMPLE OF A WOMAN ENTREPRENEUR IN INDUSTRY
INTERVIEW WITH THE PROMOTER, MADAME BERTILLE GUEDEGBE MARCOS
"I worked for fifteen years in different projects after my university studies. The last project I worked on was the training of pineapple producers in collaboration with the Faculty of Agronomic Sciences. During one of the sessions the growers issued a challenge, it was to see me producing pineapple not in a practical way. I accepted the challenge and they went out of their way to find me 11 ha… to demonstrate what I can do.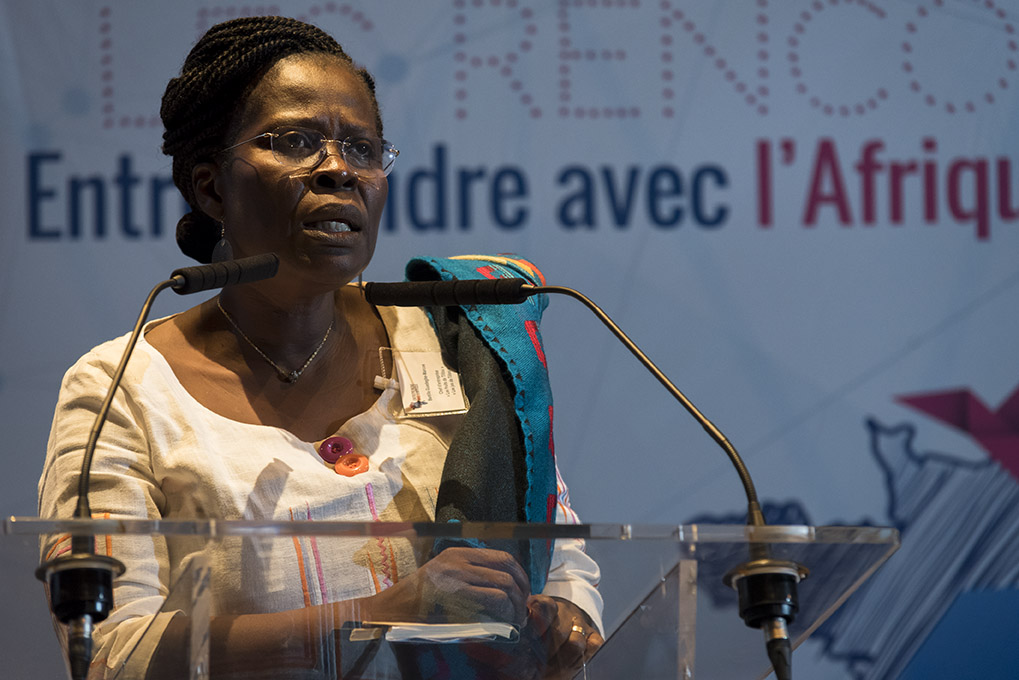 Eleven at the start, we started with the production of corn on 11 ha… and gradually I colonized all the land with pineapples. I started exporting fresh pineapple to Europe in 2003. In 2015, I was exporting around 60 tonnes per week. I started processing pineapple in 2008.
Thinking about how to bring added value to this activity, I decided to create an artisanal fruit juice production unit. Timidly with 24 bottles of juice produced, I found myself in 2015 at 600 liters of juice per day, which is the equivalent of 2000 boxes per day. This quantity of pineapple that I transformed into fruit juice was sold both on the local and regional market. In 2015 I received a French delegation which was looking for a partner for the export of processed pineapple to Europe. They took samples of the juices produced throughout Benin, and after analysis they sent me a message of congratulations to certify the good quality of our products and thus issued an approval for their export to Europe.
In 2015 we wrote a business plan which we submitted to a local bank which believed in us by financing the project. Currently, we are in the production of organic fruit juices for export and we make 12,000 liters of juice per day marketed in aseptic barrels of 200 liters. The factory has been certified organic and with the ban on fresh colored pineapple for export, we have worked to obtain the export of organic fresh pineapple as well. We are in this profession … and we encourage young people to work in this sector of activity and to flourish in it"
Source
https://docplayer.fr/89439445-Madame-bertille-marcos-guedegbe-directrice-generale-de-l-entreprise-les-fruits-tillou.html
FROM DIPLOMACY TO AGRO-BUSINESS THROUGH A REORIENTATION, A WOMAN ENTREPRENEUR WITH A QUITE ATYPICAL CAREER
Images
"My background is quite atypical because I don't have an agricultural background at all. It all started when I reoriented my studies after my degree in Diplomacy, to follow a Master's degree in Environment and Water. Then came the experience of working in a permaculture garden during a volunteer program in Quebec (Canada) and a diploma immersion at the Songhai Regional Center in Benin. It was really from this moment that I had my first real contact with the earth. So I decided to invest in Agriculture, which is done differently, with respect for Nature and living beings.
OWN FUNDING
"The financing of my project has been done entirely on own funds for the moment (donations or loans from friends, parents). It happened gradually as I convinced everyone of the possibility of another type of agriculture, one that protects both the producer and the consumer, one that creates jobs for young people. Our main target is anyone concerned about their health, wishing to consume farm products (vegetables and fruits in this case) healthy produced in Benin and preserving the environment.
OVERCOMING DIFFICULTIES: A YOUTH IMMERSION PROGRAM
"The main difficulties we encounter are related to the market and human resources. Indeed, the consumption of organic vegetables, which is not common in the diet of Beninese, means that they are not always ready to pay the fair price to the organic producer. To overcome this difficulty, we are seizing every possible opportunity to raise awareness of the benefits of consuming organic products and the direct positive impacts of organic farming on the environment and health.
Moreover, the lack of stable and committed human resources is another difficulty with which we are confronted. To deal with this, we are developing an immersion program for young people in order to put them in contact with a modern-oriented agriculture which can be used full-time and above all which can be fulfilling"
Success is always possible, when you know how to seize opportunities and not give up in the face of difficulties. Grace-Marlene GNINTOUNGBE is an example.
Source: https://agriprofocus.com/post/58d3b6b50b34d96f130f51d9
Video
Homeland Tastes, an initiative of 3 young Beninese students
Organic tea made in Benin
Images
Female entrepreneurship in Benin: an example of success
Homeland Tastes: organic infusions made in Benin, an initiative of 3 young students
" Our ultimate goal is to promote aromatic plants, our traditional leaves and succeed in imposing our infusions on consumers who are currently dependent on imported products whose composition is often unknown. » Olivia Zohou, 61958109, oliviazohou@gmail.com
Homeland Tastes is a company specializing in the production and marketing of several ranges of infusions. It had its beginnings in 2016. This startup was born from an entrepreneurial idea that brought together three young ladies sharing a common vision which is the enhancement of aromatic plants and traditional leaves by transforming them into infusions. Homeland Tastes means quottastes of the landquot.
The different products offered by Homeland Tastes
Powerful aphrodisiac recognized for its wonders, ginger is a root that does not lack virtues or health benefits. Very rich in anti-inflammatory, it is one of the 14 fresh vegetables with the strongest antioxidants, facilitates digestion and constitutes a therapeutic agent in the treatment of prostate cancer. Given all its properties Homeland Tastes offers a new formula based on ginger accompanied by some aromas to give it a fresher feeling. Flavored ginger meets consumer expectations and ensures their pure well-being.
Lemongrass-moringa infusion
Enjoy a special taste of lemongrass enriched with moringa in complete serenity and let yourself be cured of your gastrointestinal disorders, fatigue, stress, insomnia. It is also an infusion that has diuretic and toning effects, rich in antioxidants. It also helps you prevent malaria.
Homeland Tastes apart from the two infusions mentioned above, the company also has: Mint-moringa infusion and Bissap-mint infusion .
The outlook for Homeland Tastes
Currently the production capacity is 600 boxes per month for the 4 infusions. The products are available in Benin in supermarkets and restaurants. As perspectives, the promoters of the company Homeland Tastes plan to:
to be the first local infusion production company in Benin,

develop other product lines,

export Homeland Tastes products all over the world.
https://agricultureaufeminin.wordpress.com/2018/03/07/homeland-tastes-des-infusions-biologiques-made-in-benin/?fbclid=IwAR38J-ku42RbdeCv8tFqCNIjuSb3-_98JY9rJyRsja1V8aLGmet4F6MSrf8
Become the first African tiger nut brand
Images
GNONWIN promoter of Norée, the production and processing company of Tiger Nuts holds a master's degree in Business Law and Judicial Careers obtained in 2014 and a Professional License in General and Territorial Administration. Passionate about business, she started in 2012 with the retail and wholesale sale of roasted tigernuts in the format of small sachets. She confesses that this activity worked so well that she decided to add value to it in order to get more out of it because "we don't go to school to do like the others".
Since 2014, Norée has been transforming tiger nut into flour, croquettes and cream liqueurs. It offers a wide range of healthy, hygienic products, without dyes, without preservatives to preserve the good health of its customers and respect the environment by using biodegradable and ecological packaging. These products are currently available in several distribution points in Benin. Negotiations are underway for their exports to Burkina-Faso, Côte d'Ivoire, Senegal, Ghana and Nigeria.
Become the first African tiger nut brand
The vision of the Norée brand is to become the first African brand in the export of products derived from tiger nut. From her personal experience, Odile GNONWIN urges African youth to start with the means available: " Start even with few means; do not make large investments initially; work with professionalism and always persevere. Be also rigorous and disciplined especially towards oneself. >>

www.noreeafrique.com
https://www.facebook.com/noreeafrique/
YouTube video link : https://youtu.be/MtuDBFIpm7y
The cashew apple takes center stage
Images
Thérèse Orou Ali has "always dreamed of becoming a great woman". His dream is beginning to become a reality with the opportunities now provided by the transformation of cashew apple into juice under the Sweet Benin label, the first African label to promote cashew apple and its derivatives.​
Thérèse spent her childhood with a guardian. There she learned the transformation of agri-food products, mainly appetizers. Before and after classes and also during breaks, she should go around the city, walk streets and alleys, go from house to house to sell the products. It is since she has been on the benches that Thérèse has acquired practical experience in the processing and distribution of agri-food products. His later specialization in nutrition will allow him to better make the link between knowledge and know-how.
"The cashew apple is a great wealth. I live from thatquot
504 women were trained by Thérèse on cashew apple collection techniques. They are among the 1,500 people who work with her to supply her business with nuts and apples. In 2017, she received support from TechnoServe through the BeninCajù project funded by the US government. She was able to hire five permanent employees who are declared to social security. She was able to sell the 55,000 bottles she produced for the 2018 campaign. The official launch of the national cashew nut marketing campaign in Djougou was a spotlight for her.
Thérèse takes center stage
On this occasion, she successfully held a sales exhibition of her cashew apple juice. Following this, two government ministers went to visit his factory. For Thérèse, the cashew apple is a great asset and a source of empowerment for women, especially in rural areas. It is an activity that not only generates income for women but above all creates in these women a real feeling of confidence. Thérèse wants to expand her network of women for apple collection and expand her unit. It plans to produce 100,000 25 cl bottles of apple juice.
https://www.tnsbenin.org/blog/comment-la-pomme-cajou-donne-le-pouvoir-a-la-femme-au-benin
YouTube video link: https:/youtu.be/8gGqMpWaJMo
Female entrepreneurship in agribusiness in Benin: emergence of Freshy Benin
Freshy, juice, palm nuts
Female entrepreneurship in agro-industry in Benin: emergence of Freshy Benin.
Fresnellia SAGBO has a master's degree in food technology and is pursuing a doctorate. In 2012, she launched her company "Les Jus Freshy", specializing in the production of local fruit cocktails.
"In November 2012, I made my first fruit juice production with the purchase of 10 US dollars of bottles, capsules, and baobab powder. All the equipment, I rented them. Currently, my company has a production of 550 packs of 24 bottles per month for fruit juices of all flavors. And 600 jars of walnut purees per month. Agribusiness is profitable just that the beginning is difficult. You must keep trying. (Fresnellia SAGBO) .
Let's discover Freshy Benin
The agri-food company Freshy Benin takes its name from that of its promoter Fresnellia and also from the fresh and natural quality of the products . She East specialized in the production of palm nut purees and fruit juices. Under Freshy drinks, we have cocktails and pure juices of: Pineapple-Baobab; Pineapple-Watermelon, Pineapple-Bissap, Pineapple-Mango.
Freshy palm nut purées are intended for the preparation of seed sauce commonly called quotDénusunuquot in Fon, a language of Benin.
Practical advice from the promoter
Beyond the slogan "Fressy, natural everyday", Freshy's products reveal innovation. For the manager of Freshy Benin, to succeed in agricultural entrepreneurship, you need:
have an innovative idea in what you like to do (don't say it's this business that is currently working and get started);

This innovative idea must solve a problem of society;

Conduct market research;

Take the risk to start even at a lower cost;

be passionate about it;

be very patient;

earnestly pray for the prosperity of the activity.
To her advice, Fresnéllia SAGBO adds : quotAnd when you are a female entrepreneur, it is important to know that the female entrepreneur is the one who has several hands, who does a lot of things at the same time, household, husband child, staff of the company, customers, suppliers »
In perspective, the promoter envisages that Freshy Benin will become one of the largest agri-food industries in the West African sub-region by the year 2020.
http://agribusinesstv.info/fr/local-juice-cocktails/
https://agricultureaufeminin.wordpress.com/tag/freshy-benin/