She was voted Burkina Faso's Best Female Entrepreneur 2018
Alice Ouédraogo born Yaro is an emblematic figure of female entrepreneurship in Burkina. Crowned best entrepreneur in 2018 by the Ministry of Women, National Solidarity and the Family, she has succeeded in everything she has undertaken. From hostess at Ouagadougou airport, she is now enterprising in several areas. A journey that has earned him several distinctions, signs of his bravery and success. Mother of three children, this sexagenarian is not ready to stop.
She has always had a love for a job well done.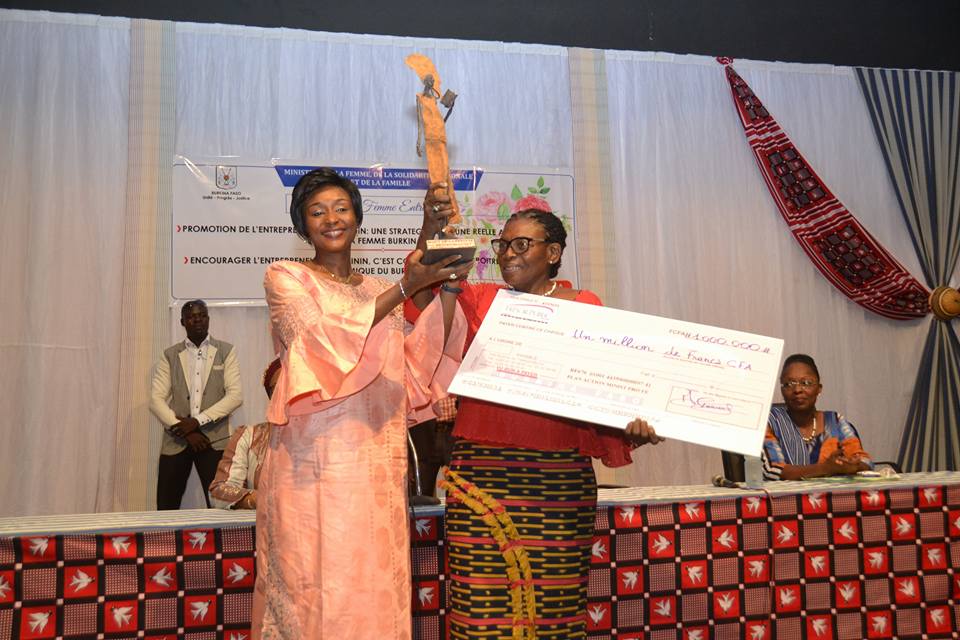 Journey
37 years ago, she opened a hairdressing salon, called quotLe salon d'Armellequot, with modern equipment accessible to young Voltaic ladies of the time in order to fill her free time in order to continue her work as a hostess. reception at the airport for the former Air Afrique company.
-She opened one of the first travel agencies in Ouagadougou, "Armelle voyage et tourisme", still functional. After that, she opened a kindergarten called "Le petit Poucet", which has now become "Groupe scolaire Le Petit Poucet".
-She launched into the hotel business with the "Bougainvilleas" of Koubri and the "Résidence Alice".
-And following the closure of La Savana, it set up a local fruit processing unit into "Delicio" juice
- It employs more than 200 people.
Difficulties and Encouragement
The greatest handicap to women's entrepreneurship today is the difficulty of access to financing linked to social and cultural constraints. It will therefore be necessary for the government, through its Ministry in charge of Women, to increase awareness by encouraging women to get involved and to set up special funds and guarantees enabling women to borrow at preferential rates.
So you have to fight twice before being accepted by financing structures and business partners. We are more often confronted with attempts at duplicity and fraud.
She invites young women to take their future into their own hands by creating their own businesses, however small they may be, and above all to first mature their projects. And especially that they do not forget that they must provide more efforts to be able to impose themselves on the market.
DELICIO Sarl
Ground Floor of Alice Residence, Karpala
Phone: (+226) 70 27 70 70
ARMELLE TRAVEL
Travel agencies
Phone: (+226) 25 31 17 60
ALICE RESIDENCE
Hotels
05 BP 6011 - Ouagadougou Phone:
(+226)
25 37 23 81
)/(+226)
25 37 28 33
BUSINESS MANAGER OF THE "VELGDA" GROUP, A REFERENCE IN THE FIELD OF CEREALS
Adja Mamounata Velgda, entrepreneur of the quotVelgdaquot group, working in the sale and purchase of cereal products, import-export, is ranked first in the top 100 women entrepreneurs. The directory produced by the Chamber of Commerce and Industry of Burkina.
His journey
-She started her activity by selling cakes with 300f as a goodwill and thanks to a good organization she started selling cassava, oil and then pouytenga flour in koupèla.
-From a simple company, she moved to the Velgda group based in Ouagadougou, Bobo Dioulasso and Pouytenga.
-The velgda group supplies the SONAGESS (National Society for the Management of Security Stocks of Burkina Faso), the WFP (World Food Programme), the RED CROSS and ECOWAS.
-It employs more than 530 people and has invested more than 10 billion CFA francs.
-Despite its invaluable contribution to the country's economy, it pays over 400 million in taxes and duties.
With more than 17 billion CFA francs in turnover declared to the tax authorities in 2016, she is the best female entrepreneur in Burkina and declared: quot I was surprised to be number 1 in the top 100. It is due to the turnover and because I am up to date with regard to the tax that I deserved this classification. I have always paid tax since I started trading. I started paying tax at 250 F, then 600 F. I fulfill this duty because I know that with the payment of taxes, it is also my contribution for the development of the country. »
Difficulties and encouragement
The difficulties are numerous but the most important remain the payment of invoices and the agreements of the Ministry of Commerce which are slow to come out.
She encourages women entrepreneurs to arm themselves with courage and to continue their activity in honesty above all and to surround themselves with good people to support and advise them.
Video link: https://youtu.be/3wsySf4mJd4 VELGDA
A MODEL OF SUCCESS
SUCCESS STORIES
Images
She has the initiative in her veins. Virginie De Clercq née Coulibaly is a figure who is beginning to be talked about in women's entrepreneurship and more specifically in the agri-food sector. Born on July 28 in Toussiana, in the Hauts-Bassins region, about 400 km southwest of the capital, Virginie De Clercq knew how to acquire the mental resources necessary for her success.
From a railroad grandfather and a housewife grandmother, Ms. De Clercq-Coulibaly has a father who is a truck driver in Abidjan, Côte d'Ivoire, and a tradesman mother in Toussiana. If this reality did not blunt in her the germ of owning her own initiative, it did not predispose her to agricultural entrepreneurship either. Proof that indeed becoming an entrepreneur requires one to have a strong personality, for Virginie De Clercq-Coulibaly to undertake is first of all to adopt the mental dispositions to overcome the obstacles that stand in the way, and then never to fall into the defeatism, whatever the field of activity. Virginie De Clercq-Coukibaly, an easy smile with expressions full of energy and conviction, undoubtedly possesses this strength of mind. "Many people think that farming is a dirty job, where you suffer, you get burned by the sun and you earn little," she camped.
But to undertake is to respond to a need for work, whatever the conditions. "Entrepreneurship, because we want, we seek to work. (…). All you have to do is organize yourself well and take what you do seriously," advises Ms. De Clercq-Coulibaly, for whom all activities lead to self-fulfilment. "Why agriculture?
Burkina Faso needs modern agricultural development, better adapted to the needs of the country," she explains, casting a glance at other agricultural initiatives in Burkina. ''There is already the example of Bagré, where large areas are exploited. But, Bagré is a public action while here it is a private initiative, in agreement with the local authorities", she compares.
For the promoter, undertaking in the field of agriculture therefore means both responding to a personal wish to initiate, generating employment, and thus serving a national ideal.
Sunflower, corn and rice… to start!
Virginie De Clercq-Coulibaly has therefore invested in the exploitation of the land through the cultivation of sunflowers, corn and upland rice. Starting from a still virgin exploitation site of 500 hectares made available by the commune of Toussiana, with the support of her husband responsible for the transformation of these virgin lands into agricultural land, an area of 50 hectares is currently exploited for the cultivation of sunflower, one of 30 hectares for corn and finally 2.5 hectares for rice.
For a production estimated at between 800 and 1,000 kilograms per hectare (for sunflower), she has an immediate challenge in mind, that of improving yield. "It's not enough, and the goal is to reach 1,500 to 2,000 kg per hectare," she says. The harvested sunflower seeds are processed: cold pressed, they give an oil of excellent nutritional quality, indicated against cardiovascular diseases, sunflower oil. She specifies: "my idea is not to exploit the land with chemical inputs and risk losing its good qualities and impoverishing it.
It's difficult, but I try to produce without the use of chemical fertilizers which certainly give a high yield, but with significant long-term consequences on the land and on human health. This is why composted fertilizer, manure is preferable.
To date, nearly 150 workers are employed on these lands, including around twenty permanent workers. "I am satisfied with my activity, but it requires a lot of presence in the field;
The taste for risk and effort!
Virginie De Clercq-Coulibaly has her sights set, in addition to production, on product processing and then marketing. But the funds are limited: "a contribution from investors and a helping hand from the banks would be welcome. A number of potential partners and financial organizations have been approached," she says.
Entrepreneurship is therefore not for Virginie De Clercq-Coulibaly a simple act of creating an activity, it is also a patriotic impulse that animates her. quotWe are trying to fight for food self-sufficiency in Burkina, given that people are unable to meet their needs from their productions,quot she notes. Anything that forces farmers to engage in other activities to meet the basic needs of their families. "That's why, with the support of my husband, we are trying to do it on a large scale," she explains, praising in passing her husband's contribution to his efforts.
"I am a very optimistic person"
Enterprising from an early age, she already was, because, reveals Ms. De Clercq-Coulibaly, quotlong before, in the early 2000s, I started selling mangoes, fresh and dried, guavas, oranges, tangerines, lemons, tarots, sweet potatoes and other fruits and vegetables in Toussiana". She does not hide her pride in having evolved and learned alongside her mother, to whom (like her father) she never ceases to pay tribute.
From then on, strong in her convictions and her experience, Virginie De Clercq-Coulibaly, who alongside her professional activities is still pursuing studies at the Aube Nouvelle University (ISIG), has no shortage of messages for her brothers and sisters. "You should not be afraid to undertake. One must dare: who dares nothing, has nothing. Nothing is easy and nothing is easily obtained, you have to accept certain constraints, to make sacrifices, you have to overcome obstacles, you need rigor.
You still have to give yourself the courage to continue in all circumstances, especially when it's difficult: the important thing is to never give up; After rain the good weather ! If we stop at the small ''but'' in an initiative, it can never work. Some have understood it well, they follow me, they appreciate at their fair value the efforts made and what I do to succeed".